Chaos....dat kun je wel zeggen bij het zien van dit lampensnoer. En zoals onze gans er bij staat, heeft hij het er ook helemaal mee gehad!
Hieronder nog een foto waarop je iets beter de sterrensequins en de geëmboste tekst kunt zien. Deze tekst vond ik wel passend bij het plaatje. Hij is met transparante kaleidoscoop embossing poeder met de heattool verhit. Iedere keer heel verrassend wat de kleurtjes worden.
Gisteren weer lekker hutspot bij mijn moeder gegeten. Dat doen we nu afwisselend met de hachee. Als het aan haar lag deden we het allebei, maar 1x per week bij haar gaan eten vinden wij wel genoeg.
Zo trots! Met dit kaartje alweer in een Top 3 gekozen en wel in die van Winter Wonderland.
Nog trotser! Met ditzelfde kaartje gekozen als winnaar bij The Holly and Ivy Christmas Challenge!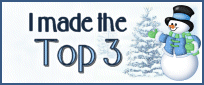 xxx Margreet
Challenges:
Craftyhazelnut's Christmas Challenge: 331 option include a star or two or more
52WTC extra: Maak een grappige kerstkaart
Winter Wonderland: Add some sparkle or bling
CAS on Sunday: Use glitter or sequins
The Holly and Ivy Christmas Challenge: AG
Beccy's Place: May challenge
2 Crafty Critter Crazies: AG featuring a creature
A Gem of a Challenge: Embossing wet or dry
Crafting When We Can
: Clean and Simple
Allsorts: Embossing