Allereerst een hartelijk welkom voor Geesje en Renata. Ik kom jullie snel een tegenbezoekje brengen!
Jeetje, alweer 2 weken voorbij. Dus weer tijd voor een nieuwe challenge bij
Melonheadz Friends.
Deze keer willen we "Dingen met vleugels of staarten" zien.
Aangezien ik niet kon kiezen heb ik deze leuke vogels gebruikt...dus zowel vleugels als staarten.
Maar je kunt natuurlijk ook zeemeerminnen, engeltjes of feeën gebruiken.
Als je met onze challenge meedoet, maak je kans om zo'n leuke bundel naar keuze te winnen.
This time we want to see "Things with wings or tails".
As I couldn't make a choice I have used these cute birds...so both wings and tails.
ut you can also use mermaids, angels or fairies.
If you enter our challenge, you can win a bundle of choice!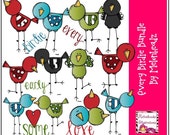 Dit is de bundel die ik heb gebruikt en hieronder een detail van mijn kaart.
This is the bundle I have used and hereunder you can see a detail of my card.
Leuk dat je langs geweest bent en van een berichtje achterlaten geniet ik heel erg!
Thank you for dropping in and it would be great if you leave me a comment.
Geniet van je dag!
Enjoy your day!